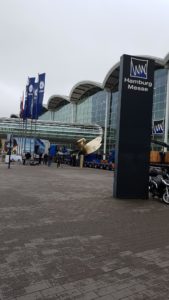 Penguin Shipping has successfully delivered their Customers exhibits to the Hamburg Messe for the SMM Exhibition.
The exhibition starts on 4th September through to Friday 7th. Penguin Shipping will then arrange the collection over the weekend and return to Customers in the UK.Penguin Shipping provide Exhibition Freight Forwarding services for many customers, mainly in the marine industry, with dedicated services for exhibitors to Monaco Yacht Show (Sept), The Marine Trade Show (METS) in Amsterdam (Nov), Salon Nautique/Paris Boat Show in (Dec) and BOOT/Dusseldorf Boat Show in January.
All this is alongside the import customs clearance, import and export freight forwarding that is the mainstay of the company and has been for over 20 years. See other pages on this site for more information.
Post Brexit regardless of the agreement with the remaining 27 EU Countries international trade is about to get more complicated. Penguin Shipping will be ready to guide Importers and Exporters through the new procedures.